Baked Tempeh with Miso Butter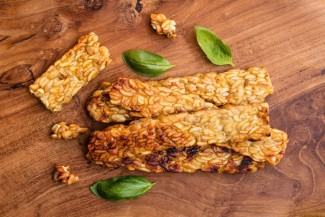 Make miso butter ahead of time to make this quick dinner even faster!
Ingredients
1/2 cup butter or vegan butter, softened
2-3 Tablespoons miso
1 (8-ounce) package tempeh, chopped
Black pepper
Instructions
Preheat oven to 400 degrees.
Using a food processor or fork, cream together the butter and miso.
Line a baking sheet with parchment paper.
In a large bowl, mix together the miso butter and tempeh until tempeh is completley coated.
Spread out tempeh on a baking sheet.
Bake for 20-30 minutes.
When ready to serve, garnish with black pepper. Serve warm and enjoy!