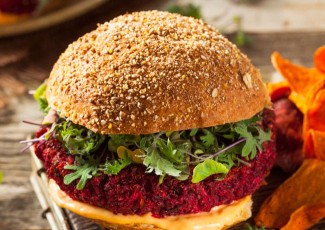 Beet Burger Recipe from Down to Earth Organic and Natural
Ingredients
3 small beets, peeled and shredded
Olive oil or safflower oil
1 cup mushrooms, sliced
1/2 cup minced yellow onion
2 Tablespoons minced garlic
1 Tablespoon Italian seasoning
Sea salt and black pepper, to taste
1 Tablespoon Worcestershire sauce
1 (15-ounce) can refried beans or black beans
1/3 cup sunflower seeds
Instructions
Preheat oven to 400°. Line a baking sheet with parchment paper.
Place the chopped beets on a lined baking sheet and roast for 20 minutes until tender. Remove and set aside.
Heat a couple teaspoons of oil in a large skillet over medium high heat. Add mushrooms, onions, roasted beets and seasonings. Saute for about 15-20 minutes or until mixture is softened.
Add cooked veggies to a food processor along with Worcestershire sauce, beans, and seeds. Process mixture for 5-10 minutes or until everything has combined. You may need to scrape down the sides a couple of times. The resulting mixture should still be chunky with bits of sunflower seeds. Remove mixture from either food processor or blender and place in a large bowl.
Roll about 1/3 cup of the beet mixture in your hand, forming little patties. Place on baking sheet. The mixture should yield about 12-16 patties.
Bake for 15 minutes, then carefully flip. This is a very wet mixture so take your time flipping them. Bake for another 15 minutes. You can also broil them for 5 minutes at the very end for a crunchier texture.
Serve on a dinner roll with your favorite burger accompaniments. Enjoy!