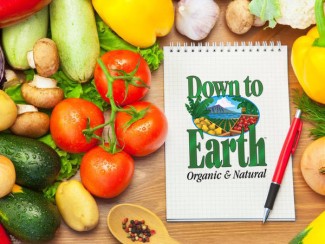 Beet Supreme Pizza recipe from Down to Earth Organic and Natural.
Ingredients
Whole wheat flour
1 prepared pizza crust of choice
Beet Pepperoni
1 Tablespoon extra virgin olive oil
2 Tablespoons soy sauce or tamari
⅓ cup vegetable broth
1 teaspoon apple cider vinegar
1 teaspoon each garlic powder, onion powder, ground mustard, paprika, and chili flakes
2-3 small beets, peeled and sliced thinly
Pizza Toppings
½ - ¾ cup marinara sauce
1-2 vegan sausages, sliced into rounds
3-4 vegetarian ham slices, roughly chopped
½ cup sliced olives
½ cup sliced red onions
1 cup sliced mushrooms
1 - 1½ cups shredded mozzarella or vegan equivalent
Instructions
Preheat oven to 500°. Dust a large baking sheet with flour. Place prepared pizza crust on baking sheet and set aside.
Prepare Beet Pepperoni: Whisk together all ingredients, except for beets, in a small bowl. Pour into an 8"x8" baking pan. Add beet slices and toss to coat them all. Bake for 10 minutes, remove from oven and re-toss to switch the bottom slices with the top slices. Bake for another 10 minutes. Remove from oven, carefully drain and set aside to cool.
Spread marinara sauce evenly over prepared pizza crust. Top with Beet Pepperoni, sliced sausage, chopped ham, olives, red onion, and mushrooms. Top entire pizza with shredded mozzarella.
Bake for 10-15 minutes or until crust is golden brown. Let cool before cutting. Serve and enjoy!