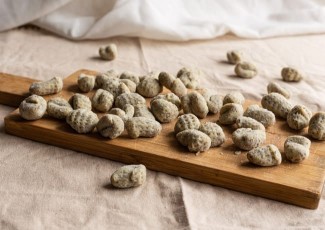 This delicious grain and gluten-free gnocchi is made with a low sugar potato, quinoa and buckwheat flours. Cook them for hardly a minute, just until they rise to the surface, to keep them light and soft.
Ingredients
4 small red potatoes, or 8 small fingerling potatoes
2 Tablespoons olive or coconut oil
Salt and pepper to taste
1 cup quinoa flour
1 cup buckwheat flour
½ cup nutritional yeast
1½ teaspoons guar gum
1 teaspoon of garlic powder
Instructions
Cook the potatoes in boiling water until soft, then drain.
Mash the potatoes with the olive oil, salt and pepper.
In another bowl, mix the flours, nutritional yeast, guar gum and garlic powder.
Combine the dry and wet ingredients and knead the dough for a couple of minutes. The dough should not be sticky. If it is, add a little more flour.
Divide into 4 equal parts and roll each into a rope ½" thick.
Cut into 1" pieces. Mark with a fork, making grooves in the gnocchi to hold pasta sauce.
Boil plenty of water in a large pot. Cook 8-10 pieces of gnocchi at a time, removing the gnocchi when they rise to the surface.  Be careful not to overcook, as soon as they rise scoop the out.
Serve immediately with pasta sauce. Enjoy!
HINT! If you do not wish to make all the gnocchi at one time, the dough will keep airtight in the refrigerator for 3-4 days.