Butternut Squash and Caramelized Onion Galette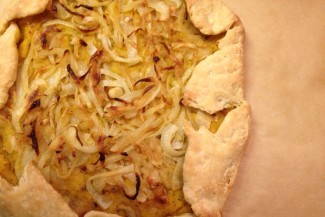 A beautiful dish with even more beautiful flavors! The perfect dish to serve for the holidays!
Ingredients
Crust
1¼ cups unbleached all-purpose flour
¼ teaspoon salt
1 stick cold butter (½ cup)
¼ cup sour cream
2 teaspoons fresh lemon juice
¼ cup ice water
Butternut Squash Filling
3½ cups cubed butternut squash
2 Tablespoons olive oil
½ teaspoon dried rosemary
½ teaspoon dried basil
¼ teaspoons dried thyme
¼ teaspoon dried sage
¼ teaspoon black pepper
Salt to taste
Caramelized Onions
2 cups thinly sliced onions
2 Tablespoons olive oil
Pinch of sugar
Instructions
To prepare Crust: In a large bowl, whisk together flour and salt.
Grate in cold butter. Cut butter into flour mixture using a pastry cutter or two butter knives. Mixture should resemble a coarse meal.
In a small bowl, whisk together sour cream, lemon juice and water. Pour into dry mixture.
Mix until large lumps form: gently press dough into a ball (dry flour and all) and wrap in plastic wrap. Refrigerate for 1 hour up to overnight.
While dough is refrigerating prepare Butternut Squash Filling and Caramelized Onions: Bring a large pot of water to a boil. Add butternut squash and cook until soft and tender.
While squash is cooking begin preparing the Caramelized Onions: Heat olive oil in a skillet over medium heat. Add onions and sugar and sauté until onions are tender and golden, about 15-20 minutes.
Once squash is cooked, drain off water and let cool slightly.
Place squash in a medium sized bowl and roughly mash. Add remaining Butternut Squash Filling ingredients and stir to combine.
Preheat oven to 400°. Line a rimmed cookie sheet with parchment paper. Set aside.
Sprinkle flour onto large work surface. Remove dough from plastic wrap, sprinkle with flour and roll out using a rolling pin into an 18-inch circle. Carefully lift dough off work surface, and transfer to prepared cookie sheet.
Spread butternut squash mixture over dough, leaving a 2-inch border. Layer caramelized onions on top.
Gently fold border over filling – leaving center open.
Bake for 35-40 minutes or until golden brown. Remove from oven and cool slightly before serving. Enjoy!