Campfire Feast with Wild Edibles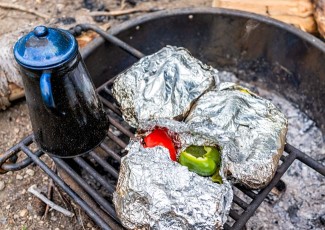 If you are camping, cook the dish in foil, in the embers of the campfire. It will be ready and delicious in about half an hour. At home, we'll use the oven…
Ingredients
4 fingerling potatoes, cut into halves, or equally sized pieces
1 red or white onion, quartered
4 cloves garlic, unpeeled
1 fennel bulb, cut into thick slices, optional
2 red bell peppers, quartered, optional
Good handful of wild edibles, as available
Splash of coconut oil
Pinch of salt and pepper, to taste
1 Tablespoon of coriander seeds
Instructions
Wash and dry your wild-edibles, removing bugs and stalks.
Put these in a large bowl with your other chopped vegetables. Cut the vegetables into similar sizes so that they cook in a similar length of time.
Toss in coconut oil, salt, pepper and coriander seeds.
Wrap it up in parchment paper, like a package. Place in a baking dish and bake at 350-400 F for 1 hour.
If camping, wrap in foil and place in the embers of your fire for 30-45 minutes.
The vegetables are ready when the largest piece of potato is soft when pierced through.
Serve! Enjoy!