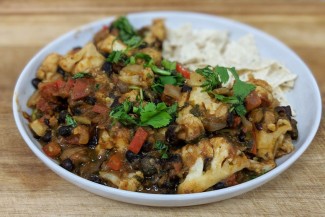 This one pot taco stuffing is easy to whip together and tastes amazing! Make a big batch and freeze the leftovers for days when you're really pressed for time.
Ingredients
1 Tablespoon coconut oil
1 head cauliflower, chopped into florets
1 onion, diced
1 bell pepper, diced
2 tomatoes, diced
1 (15 ounce) can black beans, drained and rinsed
1 bunch cilantro, minced
4-5 cloves garlic, minced
2 Tablespoons soy sauce
1 package taco seasoning OR:

2 teaspoons chili powder
1 ½ teaspoons paprika
1 teaspoon corn starch
1 teaspoon cumin
1 teaspoon onion powder
½ teaspoon dried oregano
¼ - ½ teaspoon cayenne

¼ cup vegetable broth
Instructions
In a deep skillet, heat coconut oil over medium heat. Once oil is hot, add cauliflower florets and sauté until slightly browned.
Add onion and bell pepper and sauté until onion is translucent, about 10 minutes.
Add tomatoes, black beans, cilantro, garlic, soy sauce, and taco seasoning. Mix until well combined.
Pour vegetable broth into pot, and allow to simmer until thickened.
Scoop mix into taco shells. Top with cheese, guacamole, and any other desired toppings. Enjoy!