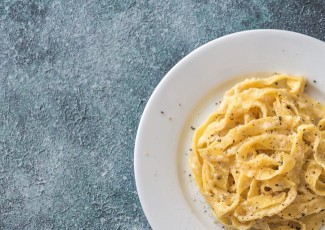 Making your own pasta is easier than it sounds, and tastes amazing!
Ingredients
2 Tablespoons flaxmeal + ⅓ cup water
2 cups semolina flour
1 cup all-purpose flour
2 Tablespoons olive oil
¾ cup warm water
Instructions
Mix flaxseed meal with ⅓ cup water. Allow to soak for 15 minutes.
In a food processor, mix semolina and all-purpose flours.
With the food processor running, slowly add the olive oil, warm water, and flaxseed meal.
Continue processing until the dough forms a ball. Transfer dough to a clean, floured surface (using semolina flour) and knead the dough for 30 seconds – 1 minute.
Cover the dough with a dry towel and allow to rest for 10 minutes.
Separate dough into 4-6 balls. One at a time, roll out dough balls on a floured surface until 1-millimeter thick.
Use a knife to slice dough into 1-centimeter wide strips.
 Bring a pot of salted water to a boil and cook noodles for 3 minutes.