Gluten-Free Veggie Patties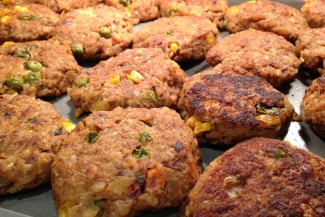 These patties can also be placed in a loaf pan, and baked for 25 minutes at 350º to make an excellent "Mock Meatloaf". (You can spread ketchup or BBQ sauce over the top before baking for added flavor.)
Ingredients
1½ cups mixed nuts
1 large red potato, cubed and boiled
1 cup cooked brown rice
3 Tablespoons safflower oil + 3 Tablespoons
1 cup diced onion
2 garlic cloves, minced
1 cup mixed vegetables
1 teaspoon liquid smoke
¼ teaspoon dried parsley
¼ teaspoon dried sage
¼ teaspoon dried rosemary
¼ teaspoon dried thyme
¼ teaspoon dried basil
1 Tablespoon vegan butter
3 Tablespoons tomato paste
1 Tablespoon egg replacer
Salt and pepper to taste
Instructions
Grind nuts up in a food processor until a crumbly, fine mixture forms.
Place boiled potato in a large bowl and mash with fork. Add in brown rice.
Heat a large skillet with 3 Tablespoons safflower oil over high heat.
Add onions and cook until translucent. Add half of the ground nuts and garlic and sauté for a few minutes.
Stir in vegetables, liquid smoke, seasonings and vegan butter.
Remove mixture from heat and stir into potato/rice mixture.
In a small bowl combine tomato paste and egg replacer. Stir in mixture.
Form 2" patties with your hands until all of mixture is used.
Reheat large skillet with remaining safflower oil over high heat. Fry patties in batches - cooking until browned on one side, about 3-5 minutes. Flip to brown other side. Serve and enjoy!