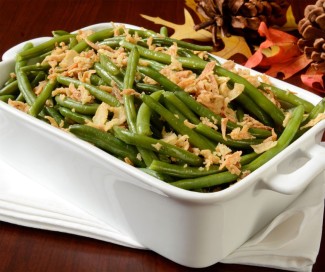 If you're looking for a lighter and healthier Green Bean Casserole, this super creamy vegan take on the classic is so rich you'd never guess it's dairy-free!
Ingredients
1/2 cup raw cashews, soaked for at least 1 hour
1/2 cup water
3 medium onions, two sliced and one diced
3 Tablespoons bread crumbs (can sub gluten-free bread crumbs)
3 Tablespoons flour (can sub gluten-free flour)
2 teaspoons salt, divided
2 lbs frozen cut green beans
1/4 cup water
4 cloves garlic, minced
2 large Italian eggplants or several Japanese eggplants, chopped
Pinch of ground ginger (optional)
1 Tablespoon Bragg's liquid aminos
1/4 cup vegetable broth (low sodium)
Instructions
Grease a 9"x12" casserole dish (or similar size) and set aside.
Place cashews in a small bowl and cover with hot water. Set aside to soak for at least an hour.
Preheat your oven to 475F. Line a baking sheet with parchment paper or lightly grease it. Thinly slice two of the onions and dice one onion, setting aside the diced one for later. Combine two sliced onions with bread crumbs, flour and 1 tsp salt in a large bowl, tossing to combine. Be sure to separate each individual onion piece. Spread evenly over the prepared baking sheet. Bake for about 20 minutes, stopping to toss them often, until the onions have softened and begin to get golden brown. Make sure to keep a close eye on them near the end as they can burn easily.
Reduce the oven heat to 350F.
Bring a large pot with two inches of water to a boil. Once boiling, add the green beans (alternatively you can steam them in the microwave according to package directions). Bring back to a boil (this may take a while) and cook over medium heat for about 5 minutes, or until tender. Drain and run cold water over green beans to stop cooking. Set aside.
In a large skillet, add water and diced onion and cook for five minutes. Add garlic and eggplant and cook for another ten minutes, stirring often. Add ginger, liquid aminos, vegetable broth and 1 teaspoon salt. Simmer for five minutes.
Blend soaked cashews with water in a blender or food processor until completely smooth and creamy. Add cashew cream and 1/4 of the baked onions to vegetable mixture along with cooked green beans, stirring to combine.
Spread mixture into prepared dish. Top with remaining baked onions. Bake for about 20 minutes. Serve hot.