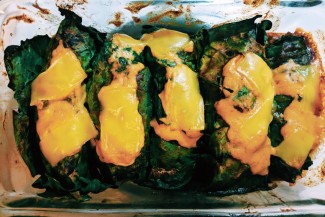 Using kale in place of tortillas is a great way to eat some greens. To make this easy dinner even faster, use a ready made queso! We used Siete's mild nacho flavor.
Ingredients
1 bunch lacinato (a.k.a. "dino") kale
1 package chili lime carnitas jackfruit, Upton brand
2 cups California frozen veggie mix
½ cup cilantro, minced
4-5 cloves garlic, minced
Juice of 1 lime
1 pack enchilada sauce mix
1 can refried beans
½ cup cashew queso
1-2 slices vegan cheese
1 Avocado (optional, for serving)
Instructions
Preheat oven to 425̊.
Wash kale under running water and set aside to dry.
In a large skillet over medium heat, cook jackfruit until it starts to brown. As the jackfruit cooks, break down into smaller pieces.
Once jackfruit is browned, add California veggie mix, cilantro, garlic, and juice of 1 lime to skillet. Allow to cook until veggies have softened.
While veggies are cooking, prepare enchilada sauce according to package directions.
Pour enchilada sauce in the bottom of an 8x8 pan.
To prepare the kale, carefully remove the largest part of the stem, while keeping the leaf intact. Remove the stem to about halfway up the kale leaf.
Now you're going to stuff the leaf. On the opposite end of where you tore the stem, spread about 1-2 Tablespoons of refried beans. Add about ½ cup of jackfruit and veggie mix. Starting from the top and working to the (now stemless) end, roll the leaf up. Place enchilada in pan and roll to coat with enchilada sauce. Repeat until all kale leaves have been used.
Once all enchiladas are in the pan, drizzle about 1 Tablespoon of queso on top of each enchilada. Break cheese slices into smaller pieces and place on top of queso.
Bake enchiladas for 15 minutes, until enchilada sauce is bubbling. Switch oven to broil and bake until kale is charred at the edges, about 2 minutes.
Serve warm with avocado and lime, enjoy!