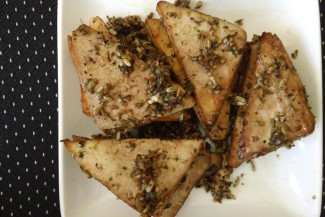 This is a simple tofu preparation that makes use of pantry staples for an easy weeknight dinner. An overnight marinade helps intensify the flavors.
Ingredients
1 (14-ounce) block extra-firm tofu
¼ cup olive oil
¼ cup red wine vinegar
2 Tablespoons soy sauce
2 Tablespoons mirin
1 Tablespoon dried garlic or garlic powder
1 Tablespoon each fennel seeds, oregano, and dried basil
1 teaspoon each black pepper and coriander
Instructions
Slice tofu 5-6 slices lengthwise then into triangles and lay into a 9"x13" baking dish or rimmed baking sheet.
In a small bowl whisk remaining ingredients together and pour over tofu. Tilt pan to allow marinade to coat tofu evenly. Let marinate overnight in refrigerator.
Preheat oven to 350º. Place tofu in oven and bake 20 minutes, then flip tofu. Bake for 10-15 more minutes, until tofu is slightly crisp to the touch and marinade has been absorbed. Enjoy immediately or save for sandwiches and wraps later in the week!