Mujaddhra (Lentils, Rice & Onions)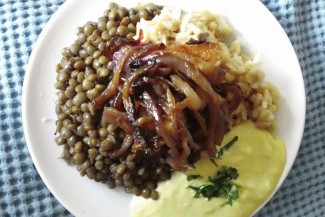 Mujaddara is a classic, wholesome dish relying on the savory flavor of properly caramelized onions. Take the time to cook them well and the dish will be a burst of sweet and savory flavors.
Ingredients
1 cup French Green lentils
3 cups water + 1 ½ cups more
1 cup brown basmati rice
Salt, to taste
2 Tablespoons olive oil
4 cups thinly sliced onions
Pinch brown sugar
Spiced Tahini Yogurt Sauce
¼ cup tahini
¼ cup unsweetened yogurt of choice
3 Tablespoons lemon juice
2 Tablespoons lemon zest
Salt to taste
1 teaspoon honey
1 teaspoon cumin and coriander
¼ teaspoon cinnamon
Instructions
Rinse lentils and add to a saucepan with 3 cups water. Bring to a boil, cover, and let simmer for 20-30 minutes, until lentils are soft. Drain off most water, and a few pinches of salt, and set aside.
Meanwhile, add rice, salt and 1½ cups water to a saucepan. Bring to a boil, cover, and cook for 30 minutes, or until soft. Fluff and set aside to cool.
In a large cast iron or non-stick skillet, warm 2 Tablespoons olive oil over low heat. Add onions and cook for 20-30 minutes, stirring occasionally. When onions are very soft and brown, add a pinch of salt and a pinch of sugar. Remove from heat and stir into lentils. Add rice and toss to combine.
To make the Spiced Tahini Yogurt Sauce: Whisk all ingredients together and serve alongside Mujaddara. Enjoy!