Plant-based Shoyu Chick'n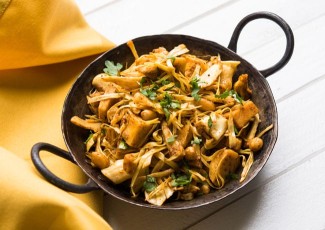 This plant-based shoyu chicken is chewy, flavorful, and super savory. Plus it's high in vitamin C!
Ingredients
(3) 14-oz cans jackfruit, hard parts removed or (3) 7-oz boxes unseasoned shredded jackfruit
1 cup water for broth
(1) packet of Beyond Broth Ginger Basil Yummy Tummy or 1/4 teaspoon vegetable broth powder of choice
1 Tablespoon nutritional yeast
2 teaspoons onion powder
1 teaspoon smoked paprika
1/4 cup arrowroot starch
2 Tablespoons silken tofu
1 teaspoon water for thinning
4 sheets rice paper
Shoyu Sauce
1/2 cup Bragg's liquid aminos
1/2 cup pineapple juice
1/2 cup water
1 3-inch piece of ginger, peeled and minced
4 stalks green onions, sliced and separated into green and white parts
Instructions
Rinse and drain jackfruit. Add jackfruit to a pot of water, bring to a boil and simmer for an hour. Drain and cool. (Skip this step if you're using boxed jackfruit.)
Bring cup of water to a boil and stir Beyond Broth in until dissolved.
Add the nutritional yeast, onion powder, and smoked paprika and whisk together.
Add jackfruit and bring to a boil. Reduce heat and simmer until liquid has evaporated.
Whisk together arrowroot and silken tofu, adding a splash of water if necessary. Add to the jackfruit and mix together.
Cut rice paper sheets in half. Soak a sheet in water for 30 seconds, until soft.
Place a couple of spoonfuls of jackfruit mixture onto the rice paper and wrap the rice paper until the jackfruit is enclosed. Repeat for remaining rice paper sheets until all the jackfruit is used up.
Combine shoyu sauce ingredients (except green part of green onions), add to a saucepan and bring to a boil. Add "chicken" pieces, reduce to low heat, and simmer for 10 minutes. Turn the "chicken" pieces over and simmer for another 10 minutes. 
Remove chicken pieces, and simmer sauce until thick. Drizzle sauce over chicken pieces and garnish with green onions.