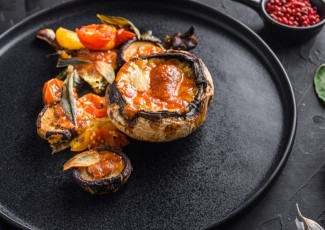 Mushrooms have a wonderful texture. When marinaded overnight, they're loaded with flavor! This recipe is 'Ekahi Ornish friendly.
Ingredients
For the Marinade:
½ cup balsamic vinegar
¼ cup vegetable broth
2 teaspoons paprika
2 teaspoons black pepper
1 teaspoon salt
½ teaspoon dried dill
¼ - ½ teaspoon crushed red pepper
3-4 cloves garlic, minced
Instructions
Remove stems from portobello mushrooms. Use a dry paper towel to wipe away any visible dirt.
In a gallon size recloseable bag, add all marinade ingredients. Close bag and shake well to combine.
Add mushrooms to bag and coat in marinade. Refrigerate overnight.
Preheat oven to 425̊. Remove mushrooms from bag and place on lined baking sheet.
Bake for 20-25 minutes, until mushrooms are soft. Serve warm and enjoy!