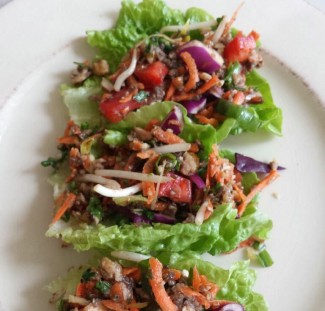 Serve this hearty and delicious filling in a large bowl surrounded by lettuce leaves- people can make their own tacos and they will love them!
Ingredients
1 head of green leaf lettuce
Filling
2 cups shredded kale
1 cup shredded red cabbage
½ cup diced red bell pepper
½ cup shredded carrots
¼ cup chopped walnuts
1 cup chopped bean sprouts
1 cup chopped cilantro
1 cup diced button mushrooms
1 cup diced shitake mushrooms
Dressing
3 Tablespoons Nama Shoyu™
3 Tablespoons agave
2 Tablespoons brown rice vinegar
2 Tablespoons sesame oil
1 teaspoon grated ginger
¼ teaspoon chili pepper flakes
Juice of 1 lime
Salt and pepper to taste
Instructions
Wash lettuce and dry all leaves well. Set aside.
To prepare Filling: Combine kale, cabbage, red pepper, carrots, walnuts, sprouts, cilantro, and mushrooms in a large bowl. Toss to combine.
In a separate bowl whisk together Dressing ingredients. Drizzle over kale mixture.
Place about 3 Tablespoons of Filling into a lettuce leaf to make tacos. Serve and enjoy!