Raw Kelp Noodle Alfredo with Mushrooms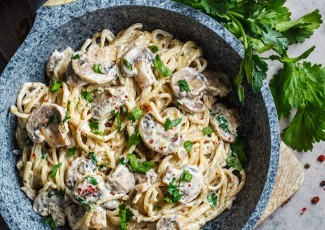 Kelp noodles are a delicious, raw substitute for regular wheat pasta. The cashew-based sauce is creamy and rich, perfect for a cool summer meal.

Ingredients
Noodles
1 (12-ounce) package kelp noodles
Mushroom Mixture
2 cups sliced mushrooms
1 Tablespoon dried garlic flakes
1 Tablespoon mirin
1 Tablespoon tamari
Alfredo Sauce
½ cup macadamia nuts
2 zucchini (peeled and cubed)
1 Tablespoon white miso
1 teaspoon mirin
1 whole garlic clove
2 Tablespoons olive oil
1 lemon, juiced
1 Tablespoon nutritional yeast
Salt to taste
Water as needed
Garnish
¼ cup fresh parsley, as garnish
Instructions
To prepare Noodles: Rinse kelp noodles in warm water and cut into bite size length using kitchen scissors.
To prepare Mushroom Mixture: Combine mushrooms, dried garlic flakes, mirin and tamari in a bowl and set aside.
Blend all Alfredo Sauce ingredients in a food processor until creamy and smooth.
Pour Alfredo Sauce over noodles and toss until noodles are well coated.
Place noodles on a platter, top with mushroom mixture and garnish with fresh parsley. Enjoy!