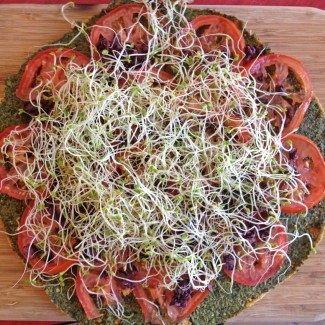 This wonderful raw version is a delightful twist on a family favorite that everyone will love.
Ingredients
Crust
1 cup whole flax seeds
1 cup ground flax seeds
1 cup nutritional yeast
3 Tablespoons Italian seasoning
2 Tablespoons garlic flakes
1½ teaspoons sea salt
Water, as needed
Pesto
5 cups whole basil leaves
1 cup walnuts
¼ cup olive oil
1 large garlic clove
Juice of 1 lemon
⅓ cup nutritional yeast
Topping
6 sliced large tomatoes
2 cups kalamata olives
2 cup clover sprouts
*Special equipment- Dehydrator
 
Instructions
Mix together all Crust ingredients, except for water, in a large bowl until well combined. Cover mixture with water until water is ½" over mixture. Mix well and let sit for 5-10 minutes, stirring a couple of times so lumps don't form.
Using a spatula place half the mixture onto a Teflex sheet. (If mixture is too thick and does not spread easily- mix in more water.) Spread mixture out into a ¼" thick circle covering the span of the Teflex sheet.
Repeat this process onto another Teflex sheets to yield 2 pizza crusts. Place in dehydrator at 105° for 2 hours. Flip crusts directly onto dehydrator trays, removing Teflex sheets and dehydrate for 2 more hours.
Combine all Pesto ingredients in a food processor and blend until well combined.
Once pizzas are done, spread Pesto evenly over both pizzas. Any extra Pesto can be refrigerated for up to a week.
Divide Toppings for each pizza. Experiment with different toppings as well. Serve and enjoy!