Raw Spinach Avocado Curry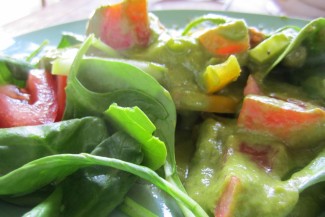 This mild, raw green curry is delicious on its own or served with raw "rice". Serve immediately upon making, as the avocado is best fresh. Feel free to spice it more strongly to suit your palate.
Ingredients
1 small avocado
2 tomatoes
2 Tablespoons of virgin olive oil
1 cardamom seed
1 clove garlic
½" of ginger, peeled
½-1 teaspoon of salt, to taste
Pinch of black pepper
2 teaspoons of garam masala
Pinch of cayenne or paprika, optional
1–2 cups of spinach
1 small apple, diced
1 tomato, diced
½ red onion, diced
Instructions
In a blender, combine the avocados, tomatoes, oil, cardamom, garlic, ginger, salt, pepper, and garam masala until smooth.
Add the spinach and blend again.
Serve immediately over diced apple, tomato and onion. Also great with a side of raw coconut rice.  Enjoy!