Roasted Vegetables with Black Bean Noodles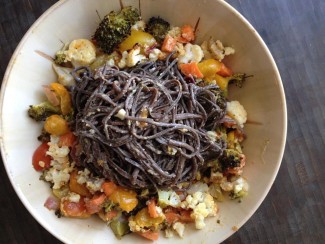 A variety of creamy roasted vegetables pairs great with the unique gluten-free black bean noodles.
Ingredients
Miso Dijon Dressing
¼ cup olive oil
2 Tablespoons prepared Dijon mustard
2 Tablespoons miso
2 Tablespoons lemon juice + more to taste
Pinch red pepper flakes
Sea salt and black pepper to taste
Roasted Vegetables
3 cups finely chopped cauliflower
2 cups finely chopped broccoli
2 cups chopped fresh tomatoes
1 cup finely chopped carrot
1 cup minced red onion
1 (7-ounce) package black bean noodles
Nutritional yeast for garnish
Instructions
Whisk together all Dressing ingredients in a small bowl. Set aside.
Preheat oven to 400º.
In a large bowl, toss together cauliflower, broccoli, tomatoes, carrots and onions. Pour half the dressing onto the vegetables and toss to coat. Layer evenly onto a baking sheet. Bake for 30 minutes, or until vegetables are slightly browned and soft.
Meanwhile, cook black bean noodles according to package directions. Drain and toss with remaining dressing while still warm. Divide into serving bowls and top with roasted vegetables. Garnish with extra lemon juice and nutritional yeast. Enjoy!