Smoked Vegetarian Apple Sausage with Swiss Chard & Shiitake Mushrooms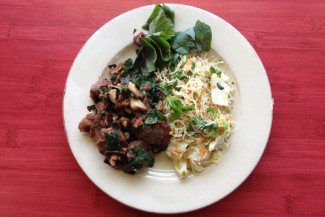 Smoked Vegetarian Apple Sausage with Swiss Chard Recipe from Down to Earth Organic and Natural
Ingredients
3 tbsp safflower oil (or enough to coat pan)
1 cup chopped red onion
1 pkg of Field Roast Italian Sausage, sliced
¼ inch rounds
2 garlic cloves, minced
5-6 Shiitake Mushrooms, chopped
1 bunch Rainbow Swiss Chard, chopped
1 cup chopped red pepper
 Miso Sauce*:
 3 tbsp. miso paste
½ tsp agave
1 Tablespoon olive oil
1 teaspoon red chili pepper flakes
¼ cup water
Instructions
*Whisk together all ingredients ahead of time, set aside
Heat skillet to medium and coat with safflower oil.
Add chopped onions and stir until brown.
Add cut up Smoked Apple Sausage- stir and brown.
Add garlic and cook for 3 minutes.
Add Shiitake Mushrooms, and Swiss chard, continue to stir.
Add Miso Sauce. (Add additional water if needed.)
Cover and simmer for 15minutes.