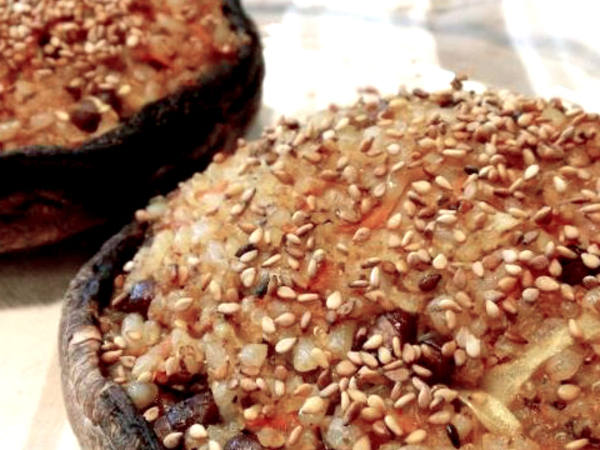 Stuffed Portobello Mushrooms
Hearty portobello mushrooms are stuffed with simple fried 'rice' made from quinoa and vegetables.
Updated: Mon, 05/13/2019 - 9:05pm
Ingredients
Oil Mixture
¼ cup toasted sesame oil (optional)
2 Tablespoons soy sauce or tamari
2 Tablespoons mirin
4 teaspoons honey or agave nectar
2 teaspoons brown rice vinegar
1 teaspoon garlic powder
1 teaspoon black pepper
Stuffed Mushrooms
4 portobello mushrooms
1 Tablespoon sesame oil (optional)
1 cup cooked quinoa
1 cup cooked brown rice
½ cup cooked adzuki beans
1 cup shredded carrots
1 cup finely shredded cabbage
½ cup minced mushrooms
½ cup minced green onion
Sesame seeds, for garnish
Instructions
Preheat oven to 325º.
Prepare Oil Mixture: In a small bowl mix together ¼ cup sesame oil, soy sauce, mirin, honey, vinegar, garlic powder and pepper. Whisk to combine.
Prepare Stuffed Mushrooms: Remove the stem from the mushrooms, and wipe with a damp cloth. Place gill-side up in a 9" x13" baking dish. Brush gills and sides generously with Oil Mixture, and bake for 15 minutes. Remove and let cool slightly.
In a large skillet, heat 1 Tablespoon sesame oil until hot. Add quinoa, rice and beans, and sauté over medium-high heat until slightly browned. Add all vegetables and cook until soft, about 10 minutes. Press mixture lightly with a spatula to mash beans.
Add 1 cup grain-vegetable mixture into mushroom caps, pressing slightly to form a rounded top. Drizzle remaining oil mixture on top and sprinkle with sesame seeds. Bake for another 15 minutes, or until rice mixture is browned on top. Enjoy!