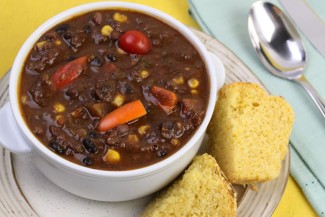 This filling and delicious chili is perfect on a cool evening. It can be served solo, alongside rice, or with spaghetti for a Hawaiian-style meal.
Ingredients
¼ cup vegetable broth
1 onion, roughly chopped
1 red pepper, chopped
4 cloves garlic, minced
1 (28-ounce) can diced or crushed tomatoes
½ teaspoon garlic powder
½ teaspoon onion powder
½ teaspoon dried oregano
1 teaspoon cayenne powder (more to taste)
2 teaspoons smoked paprika (optional)
2 (15 oz) cans brown lentils, rinsed and drained
1 (15 oz) can black beans, rinsed and drained
1 (15 oz) can aduki beans, rinsed and drained
1 teaspoon coconut nectar
Salt to taste
Water as needed
Instructions
In a large stockpot, heat oil over medium heat until warm. Add onions, red pepper and garlic. Sauté until onion is translucent, about eight to ten minutes.
Lower heat and add tomatoes and powders. Stir to combine. Add lentils, beans, coconut nectar, and salt, stirring to combine. Add water as needed for preferred texture. Simmer covered on low heat for half hour, stirring occasionally and adding more liquid if necessary. Serve warm and enjoy!