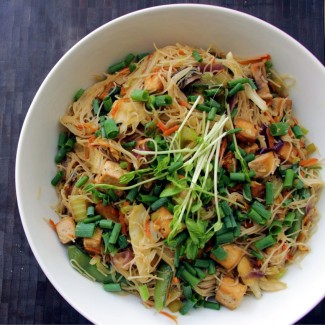 A vegan version of a popular Filipino dish uses savory baked tofu, thin rice noodles, a simple sauce and a whole lot of veggies! Great for big family parties or as a great make-ahead meal.
Ingredients
Tofu
1 cup vegetable broth + more if needed
2 Tablespoons nutritional yeast
2 Tablespoons soy sauce or tamari
2 teaspoons apple cider vinegar or brown rice vinegar
1 teaspoon each dried thyme and basil
1 (12-ounce) tub extra-firm tofu; drained, pressed dry and cut into ½" cubes
Pancit
2-3 Tablespoons safflower oil or peanut oil
½ yellow or red onion, thinly sliced
2-3 cloves garlic, minced
1 cup shredded or diced carrots
1 cup diced celery
3-4 cups shredded cabbage
1-2 cups sugar snap peas (optional)
1-2 cups sliced white button mushrooms (optional)
1-2 cups chopped kale or spinach leaves (optional)
2 cups vegetable broth, divided
4 Tablespoons soy sauce or tamari, divided
Rice noodles, cooked according to package stir-fry directions and drained
Garnish
Chopped cilantro (optional)
Sliced green onions (optional)
Sprouts of choice
Black pepper, to taste
1 lemon or lime or 2 calamansi limes, sliced into wedges
Instructions
To prepare Tofu: Whisk all ingredients, except for tofu, together in a small dish with deep sides. Add tofu to marinade and toss to coat. If the marinade doesn't cover tofu, add more vegetable broth or water. Cover dish and refrigerate for at least 2 hours up to overnight.
Preheat oven to 400°. Line a baking sheet with parchment paper. Drain Tofu and layer tofu cubes onto baking sheet and bake for 15 minutes. Flip cubes over or shake pan to gently toss tofu. Bake for another 15 minutes or until browned and crispy. When tofu is done, remove from oven and set aside to cool.
To prepare Pancit: Heat a large skillet with oil over medium-high heat and add in onions and garlic. Sauté for 2-3 minutes or until fragrant. Stir in carrots and celery and sauté for an additional 2-3 minutes.
Add in cabbage, peas, mushrooms, and kale and stir for a minute. Add in tofu cubes, 1 cup vegetable broth and 2 Tablespoons soy sauce. Allow vegetables to cook for 2-4 minutes or until broth has been absorbed. Transfer cooked vegetables/tofu to a large bowl.
Using the same skillet over medium heat, pour in the remaining vegetable broth and soy sauce. Add in cooked noodles and sauté for a few minutes or until broth has been absorbed by the noodles. Add noodles to cooked vegetables/tofu and toss to combine.
Garnish with cilantro, green onions, sprouts and black pepper. Serve with sliced citrus on the side. Enjoy!