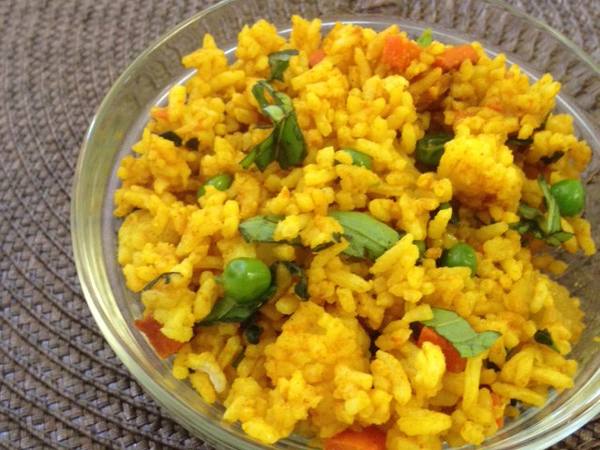 Turmeric Garlic Fried Rice
This simple and savory fried rice harnesses the powerful benefits of turmeric and is sure to please the garlic-lover! Adapted from www.savvyvegetarian.com
Updated: Mon, 05/13/2019 - 8:59pm
Ingredients:
1-2 Tablespoons safflower oil
5-6 cloves garlic, minced
1 stalk celery, chopped
1 small carrot, diced
Spices
½ tsp ground ginger
1 tsp paprika
½ tsp ground cumin
1 tsp ground coriander
½ tsp turmeric powder
Pinch of cayenne
1 cup frozen peas
2 Tablespoons of water
2-3 cups cooked white or brown rice, day-old rice is best
2-3 Tablespoons Braggs liquid aminos or soy sauce
Instructions:
Heat oil on medium low in a large shallow pan
Add the garlic, celery, and carrots. Stir fry until garlic is fragrant
Add the spices and stir-fry for 2 minutes, until mixed well and browned.
Add the frozen peas and water, cover and steam for 5 minutes, or until the veggies are tender.
Add the rice and Braggs, and stir-fry for 2 minutes, breaking up the chunks of rice
Remove from heat and let cool slightly. Serve and enjoy!