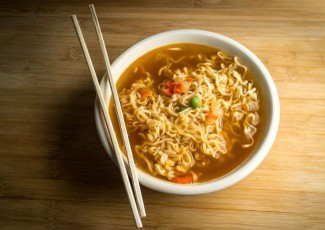 Nothing compares to a hearty, rich bowl of ramen for dinner.
Ingredients
1 portabella mushroom, chopped
2-3 cloves garlic
¼ cup tahini
2 Tablespoons white miso
2 Tablespoons liquid aminos
1 Tablespoon mirin
1 Tablespoon rice vinegar
Juice of 1 lemon
1 (32 ounce) carton mushroom broth
1 nori sheet
1 (9.5 ounce) package ramen noodles
½ cup fresh cilantro, minced
Instructions
In a pot, sauté mushroom until slightly browned. Add garlic and continue sautéing until garlic has browned.
In a small bowl, whisk together tahini, miso, liquid aminos, mirin, rice vinegar, and lemon juice. Add to pot along with mushroom broth and nori sheet.
Bring to a boil and add noodles. Cook for 3 minutes.
Split ramen into serving bowls. Add cilantro and green onions for garnish. Enjoy!