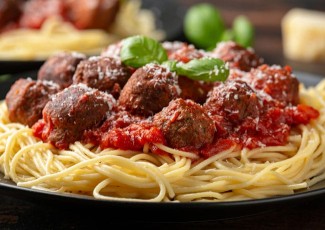 Using frozen vegetables (i.e. peas and corn) are great shortcuts to fast healthy meals. Another good way to save time, is making these Vegan Meatballs a couple of days ahead of time, refrigerate and simply warm up when ready to eat throughout the week. This recipe can be refrigerated for up to a week.
Ingredients
3 Tablespoons flax meal + ¼ cup water 
1-3 Tablespoons oil
1 cup frozen peas and/or corn 
2 teaspoons onion powder
2 teaspoons garlic powder
½ cup fresh minced Italian herbs like thyme, rosemary, and/or sage OR 3 Tablespoons dried Italian seasoning
2 (14-oz) cans chickpeas, drained and rinsed
1 cup bread crumbs (or chickpea crumbs for gluten-free)
¼ cup tomato paste 
¼ cup nutritional yeast
1 teaspoon salt
Instructions
Preheat oven to 400⁰. Line a large baking sheet with parchment paper. 
Stir flax meal and water together in a bowl to create a flax "egg" and set aside.
Heat oil in a sauté pan over medium heat. Add in frozen peas and corn and cook until defrosted and soft. Stir in seasonings and cook for a couple more minutes. 
Carefully add sautéed veggies to a food processor. Process for a couple of minutes. Then add in flax egg, chickpeas, crumbs, tomato paste, nutritional yeast and salt. Continue processing in the food processor until mixture is well combined and sticky. If mixture is too dry, add in a couple teaspoons of oil and process again. 
Transfer mixture into a bowl.
Form mixture into little golf ball size balls and place them on your prepared baking sheet. Continue until all mixture is used up and meatballs are all placed on baking sheet.
Bake for 30-35 minutes until firm and golden brown. Allow meatballs to cool before serving. 
Serve Vegan Meatballs with your favorite marinara sauce. Enjoy!