Gluten-Free Vegan Stuffing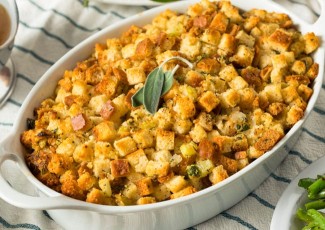 This holiday classic gets a gluten-free makeover that will surprise you. It's so good, you might not even have to make a regular stuffing! 
Ingredients
1 loaf gluten-free bread, cubed
3 Tablespoons safflower oil
½ cup diced celery
½ cup sliced leeks
1 cup diced onion
1 cup chopped shiitake mushrooms
3 garlic cloves, minced
¼ cup currants
½ cup crushed walnuts
½ teaspoon sage
½ teaspoon thyme
¼ teaspoon crushed red pepper
¼ cup nutritional yeast
1 teaspoon tamari
Salt and pepper to taste
2 cups vegetable broth
Instructions
Preheat oven to 350º. Place cubed bread on a baking sheet and toast 15-20 minutes until firm and golden brown.
Heat oil in a large skillet over high heat.
Stir in celery, leeks, onions, and sauté until translucent.
Add in remaining ingredients, except for vegetable broth, and sauté for another 5 minutes. Remove from heat.
Place bread crumbs into a large bowl. Pour in sauté mixture and toss to evenly coat.
Pour broth over mixture and mix well.
Place mixture in a 9"x11" baking dish. Cover with foil and bake for 25 minutes.
Remove cover and cook for another 10-15 minutes until top is golden brown. Serve and enjoy!