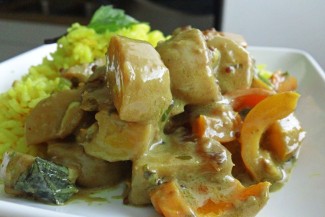 This interesting curry is made with green bananas– but it's not sweet! When boiled and stewed, green bananas taste like cassava or potatoes. Tamarind is the pulp from a seedpod and adds a tangy, rich flavor. It's not necessary, but it makes the recipe amazing!
Ingredients
1 bunch green bananas (about 5-6 apple bananas) 
2 Tablespoons coconut oil
1 onion, chopped
2 bell peppers, chopped 
4 garlic cloves, minced
1 Tablespoon fresh, grated turmeric (or ½ teaspoon dried)
1 Tablespoon fresh, grated ginger
2 teaspoons mustard seeds
1 (15-ounce) can coconut milk
1 Tablespoon tamarind sauce/paste
Salt, to taste
¼ cup chopped fresh cilantro
¼ cup chopped fresh Thai basil
Instructions
Break banana bunches into single bananas. Add to a stockpot and cover with water. Bring to a boil and cook for 25 minutes. Bananas will lose their color and split open. Remove bananas from water and set aside to cool. (Tip: use gloves when working with green bananas, as the sap is very sticky!)
Once cooled, peel bananas and chop evenly. Set aside.
In a large skillet heat coconut oil. Add onion and cook until soft and browned, about 10 minutes. Add peppers, garlic, turmeric, ginger and mustard seeds. Toss to coat and cook for five more minutes.
Stir in chopped bananas, coconut milk, tamarind sauce and salt. Bring to a low boil, then reduce heat and simmer for 10 minutes, or until bananas are very soft.
Stir in cilantro and basil, add more salt if needed. Serve with Indonesian Yellow Rice and enjoy!