Mac-Nut Crusted Tofu w/ Spicy Mango Sauce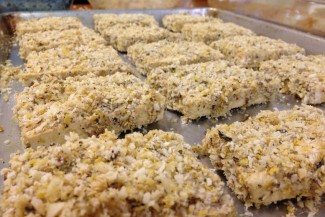 Mac-Nut Crusted Tofu with Spicy Mango Sauce recipe from Down to Earth Organic and Natural.
Ingredients
1 (14-ounce) tofu, drained and patted dry
Marinade
1/4 cup mirin
2 Tablespoons safflower oil
2 Tablespoons soy sauce
3 Tablespoons taosted sesame oil
2 garlic cloves, minced
1 Tablespoon minced ginger
Flax Gel
2 Tablepoons ground flax meal
4 Tablsepoons water
Mac Nut Breading
1/2 cup findely ground macadamia nuts
1/4 cup panko
1/8 cup nutritional yeast
1/2 teaspoon dried basil
Salt & pepper, to taste
Mango Sauce
1 cup chopped mango
1/4" jalapeno pepper
2-3 green onions, roughly chopped
1 garlic clove
1 teaspoon apple cider vinegar
Juice of 1/2 lemon
2 teaspoons coconut oil
Salt & pepper, to taste
Instructions
Slice tofu into ¼" thick slabs. Lay in a single layer in a baking dish.
Combine all Marinade ingredients in a bowl. Pour over tofu and allow to marinate for 30 minutes, flipping over half way through.
Whisk Flax Gel ingredients in a small bowl. Allow to sit for 1-2 minutes.
In a small bowl mix together Mac Nut Breading ingredients.
After tofu has marinated, working with one slab at a time roll in Flax Gel and then roll in Mac Nut Breading. Repeat with remaining tofu.
To cook tofu you can either bake or fry: To Bake: Preheat oven to 400°F. Grease a baking sheet. Place tofu on prepared baking sheet and bake for 15 minutes. Turn over and bake for another 15-20 minutes or until golden brown. To Fry: Heat skillet to medium-high heat. Add 2 Tablespoons high-heat oil and fry tofu on each side until dark golden brown.
Prepare Mango Sauce: Place all ingredients in a food processor and blend until smooth.
Top tofu with Mango Sauce. Enjoy!