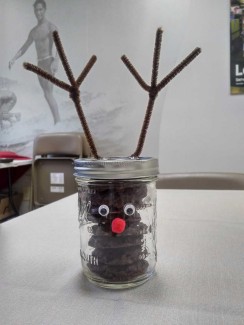 As seen on KHON's Living 808! Decorate this cute mason jar to hold cookies or puppy chow for a festive holiday gift!
Ingredients
1 wide mouth pint mason jar
2 brown pipe cleaners
Glue
2 googly eyes (size 10 mm or larger)
1 red puff ball
Instructions
1. Fold one brown pipe cleaner in half. Measure 1 inch on either side from the fold.
2. Glue the measured 2 inches to the center of the mason jar lid.
3. Angle the ends of the pipe cleaner so they are pointing upwards. Allow the glue to dry.
4. Cut the second pipe cleaner in half. Measure 1" down from the tip of the pipe cleaner (the one glued down to the mason jar) on both sides. Twist the half of the pipe cleaner around the glued down pipe cleaner until it will stay. Fan out the ends to created 3 prongs for each antler.
5. Glue the googly eyes to the mason jar, centered with the antlers.
6. Glue the red puff ball below the eyes.
7. Allow all the glue to dry, then fill jar with Christmas treats! Enjoy!