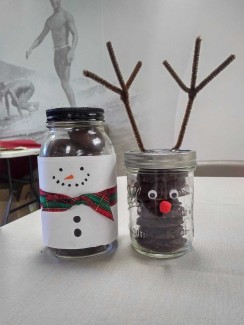 As seen on KHON's Living 808! Decorate this cute mason jar to hold cookies or puppy chow for a festive holiday gift!
Ingredients
1 sheet white paper
Glue
1 quart sized mason jar
Black paint
Black marker
Orange marker 
Holiday ribbon
Instructions
Measure a 4" tall 13" long piece of white paper (glue some scrap paper to the end to create 13" if needed).
Glue the paper to the widest part of your mason jar.
While the glue is drying, use black paint or a black marker to color the lid of the mason jar black. 
Use the black marker to draw two eyes and 8-10 dots to create a smile. 
Just below the eyes, use the orange marker to draw a long triangle for a carrot nose. 
Wrap ribbon all the way around the jar. Tie a knot just below the smile and glue the ribbon down to create a scarf.
Use the black marker to draw two large buttons below the knot of the ribbon. 
Fill the mason jar with puppy chow or chocolate peppermint cookies to create a festive holiday gift!