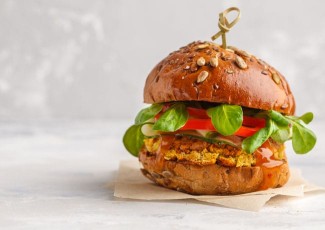 Tofu Burger recipe from Down to Earth Organic and Natural.
Ingredients
1 (14-ounce) block extra firm tofu
1-2 Tablespoons olive oil + 1-2 Tablespoons
¾ cup finely chopped onion
½ cup grated carrot
⅓ cup finely diced celery
½ teaspoon dried basil
½ teaspoon Spike® seasoning
¼ cup walnuts, chopped to a coarse meal
¼ cup nutritional yeast
¼ cup bread crumbs
1 teaspoon soy sauce
Instructions
Remove tofu from package. Drain and wrap in a towel, squeezing lightly to remove excess water. Crumble into a bowl.
Heat olive oil in a fry pan over medium-high heat.
Add onion, carrot, celery, basil and Spike. Sauté for a few minutes until golden. Remove from heat.
Add sautéd onion mixture, walnuts, nutritional yeast, bread crumbs and soy sauce to tofu. Mix well.
Form round balls and press into burger patties.
Heat 1-2 Tablespoons olive oil in a large skillet over medium heat. Fry tofu burgers in batches, turning until both sides are golden brown - about 3-5 minutes on each side.
Serve on buns with your favorite toppings, or as a side dish. Enjoy!