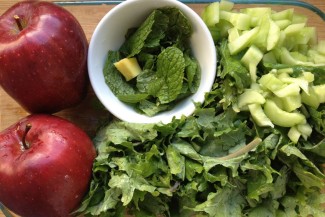 A simple and tasty juice that can help jumpstart any detox plan. Kale is a great detox ingredient as it helps cleanse the intestines and helps the liver naturally create cleansing enzymes. Apples and cucumbers are naturally alkalizing. Ginger is great for total body cleansing. Mint's natural aroma not only smells great but actually helps initiate our body's natural digestion which helps dispel toxins and waste faster.
Ingredients
4-5 cups chopped kale
2 apples, cored and quartered
1 cucumber, ends chopped off
1"-2" piece ginger
¼ cup fresh mint leaves
Special Materials: Juice Extractor
Instructions
Press all ingredients through a juice extractor. It helps to juice leafy ingredients in between solid ingredients to help extract as much juice as possible. Stir and serve immediately. Enjoy!