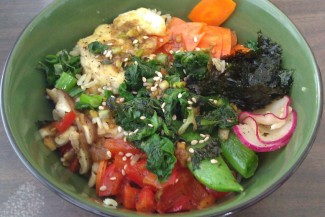 This recipe was inspired by the Korean dish Bibimbap. To keep this dish in the spirit, try to keep vegetables separate for plating. If need be, cook them in batches. You just need the vegetables to be slightly cooked so that they're warm and still crispy. Use tongs instead of a spoon to cook with to make it easier to keep the vegetables separate.
Ingredients
Brown Rice
2 cups brown rice, rinsed
3 ¼ cups cold water
Dressing
1 Tablespoon peeled and minced fresh ginger
2 Tablespoons miso
¼ cup soy sauce or liquid aminos
¼ cup water
1 Tablespoon sesame oil
Bibimbap
1 Tablespoon minced garlic
¼ cup chopped shallots
¼ cup chopped shiitake mushrooms
¼ cup bean sprouts
2 cups loosely packed kale, finely chopped
¼ cup chopped bell peppers
¼ cup sliced radishes
¼ cup sliced carrots
8-10 sugar snap peas
1 sheet dried nori, crumbled
2-3 teaspoons gomasio (sesame salt)
Instructions
Place rice and water in a medium saucepan. Bring to a boil.
Stir once and reduce heat.
Let the rice simmer, covered, until rice is tender and has absorbed all liquid, around 45-50 minutes. Check every so often until the desired doneness is achieved and then remove from heat.
While rice is cooking, combine all ingredients for dressing in a food processor and pulse a few times until ginger and miso are broken up.
Divide cooked rice into four serving bowls and drizzle about ½ of the dressing over rice. Set aside.
As rice cools, heat a large saucepan or wok with sesame oil on medium heat.
Add garlic first and let cook for 30 seconds.
Add shallots, mushrooms, bean sprouts and cook for about 1 minute. Season with salt and pepper to taste.
Add the kale, bell peppers, radishes, carrots and sugar snap peas. Cook until kale reduces, about 2-3 minutes. Turn heat to low to slowly simmer.
Carefully transfer equal amounts of each vegetable, except for the kale, to the perimeter of each rice bowl, leaving the center empty. Don't forget to keep them separate!
Place cooked kale in the middle of each bowl.
Drizzle remaining dressing over each rice bowl and garnish with nori and gomasio. Enjoy!