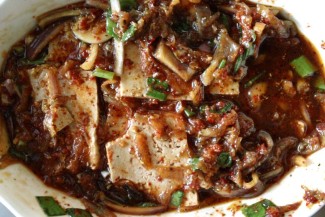 Korean BBQ tofu is an easy, spicy main dish. This version of the classic recipe is adapted from Manifest Vegan food blog.
Ingredients
1 (14-ounce) block extra firm tofu
½ cup thinly sliced red onion
½ cup sliced green onions
3 cloves garlic, minced
1 Tablespoon fresh grated ginger
½ - ⅔ cup wheat free tamari or soy sauce
1 pear, cored and shredded
¼ cup toasted sesame oil
¼ cup organic sugar
¼ cup mirin
2 Tablespoons rice vinegar
1 teaspoon black pepper
1 teaspoon gochugaru [Korean red chili flakes] (optional)
High heat oil, for grilling
Instructions
Wrap tofu in a towel. Place into a colander and layer with a plate and heavy items to weigh down the tofu.
Slice tofu very thinly. Place tofu slices in a deep baking dish. Sprinkle onions, green onions, garlic, and ginger on top.
In medium sized bowl, combine tamari, shredded pear, sesame oil, sugar, mirin, vinegar, and peppers and stir well to combine. Pour marinade over tofu and vegetable mixture. Cover and refrigerate for eight hours or overnight.
Remove tofu slices from the marinade. Reserve marinade and set aside.
Heat a few Tablespoons oil in a heavy skillet or cast iron pan over medium-high heat. Add tofu to pan (working in batches if necessary) and grill until browned on both sides.
After both sides have browned, pour just enough marinade (including onions, etc.) to cover tofu. Let simmer until marinade is absorbed and vegetables are soft. Serve with rice and veggies! Enjoy!