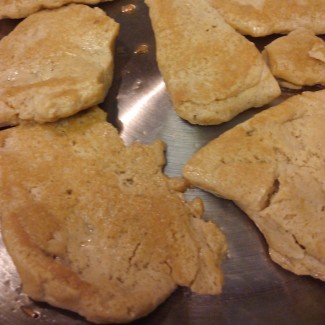 This "wheat-meat" is so easy to make at home and costs so little! Seitan is extremely versatile and can take on a wide variety of flavors.
Ingredients
Broth:
1 cup soy milk
1 Tablespoon white vinegar
8 cups vegetable stock
7 whole white button mushrooms
1 teaspoon onion powder
1 teaspoon garlic powder
2 teaspoons chicken flavored broth powder
2 bay leaves
Pinch celery seeds
Dough:
1 cup vital wheat gluten
2 Tablespoons nutritional yeast
1 teaspoon Spike seasoning
1 cup vegetable broth
1 Tablespoon vegetarian chicken-flavored broth powder (optional)
Instructions
Whisk together soy milk and vinegar in a small bowl. Set aside for a couple of minutes to curdle. Reserve 1½ Tablespoon for dough.
Combine soy milk mixture and remaining broth ingredients in a large pot and bring to a boil.
While the broth heats up, combine all dough ingredients in a large nonmetallic mixing bowl. Mix and knead together until mixture can be shaped into a ball. Squeeze out excess liquid.
Flatten ball into a circle and cut 6 pie-shaped wedges.
Flatten each wedge until about ¼" thick. Set aside.
Cover pot, lower heat to a simmer. Add seitan dough and let cook for about an hour, stirring every 10-15 minutes.
Once done, transfer seitan to a colander and let drain. Let broth cool and transfer to a glass air-tight container. Broth can be refrigerated and reused for up to a week.
Press down on seitan to drain out as much moisture as possible. Pat dry with paper towels
Seitan can be used immediately. Refrigerate any unused seitan in an airtight container or in cooking broth. Always drain before using. Enjoy!