Creamy Asparagus Pesto Pasta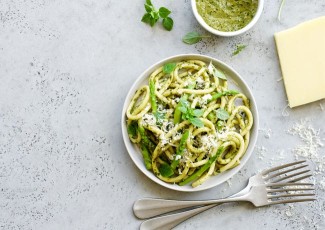 This decadent pasta makes a great meal for special occasions and is packed full of nutrients.
Ingredients
Asparagus Pesto
1¼ cups fresh asparagus, finely chopped
3 cloves garlic
⅓ cup grated raw cheese (or Parmesan cheese)
½ cup extra virgin olive oil
2 teaspoons aged balsamic vinegar
1 teaspoon lemon juice
Salt and pepper
Pasta
4 ounces penne pasta
2 Tablespoons garbanzo flour
2 Tablespoons olive oil
2 cups half and half, or unsweetened soy milk
1 cup fresh sweet basil leaves
½ cup thinly sliced tomatoes, seeds removed
Grated parmesan cheese (or soy cheese equivalent)
Instructions
Place all Asparagus Pesto ingredients in a food processor and process until mixture becomes slightly creamy. If mixture sticks to the sides of the bowl stop the processor and scrape the sides with a spatula. Season with salt and pepper if desired. Set aside.
Cook pasta according to package directions. Drain and rinse. Set aside.
Heat a large sauté pan to medium-high heat.
Carefully add flour and oil, mixing well to form a thin paste.
Stir mixture constantly for 2-3 minutes or until paste smells toasty. Reduce heat to medium.
Slowly whisk in half and half and cook for 1-2 minutes or until sauce begins to thicken slightly.
Remove from heat and stir in prepared pesto and basil leaves.
Carefully add pasta to the sauce and toss. Transfer to a serving platter.
Garnish with tomatoes and cheese. Enjoy!