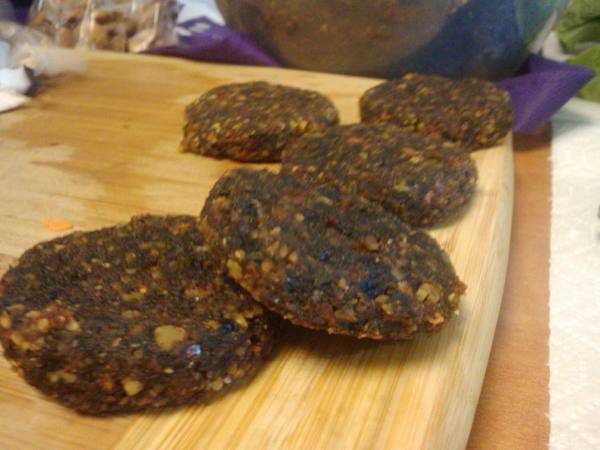 Raw Sun Burger recipe from Down to Earth Organic and Natural.
Ingredients
5-6 medium carrots
2 cups raw almonds
1 bell pepper, diced
2 Portobello mushrooms, finely diced
2 Tablespoons dried basil
2 Tablespoons raw tahini
4 pinches cayenne
4 pinches sea salt
Special Materials: Juicer and Dehydrator (optional)
Instructions
Using a juicer, juice carrots. Should yield about 3 cups of pulp. Place pulp in a large mixing bowl. Store or discard carrot juice.
Place almonds in a food processor and blend until a very fine, flour-like consistency is achieved. Should yield about 1 cup almond meal.
Add almond meal and remaining ingredients to carrot pulp. Use your hands to mix until well combined.
Form burgers into rounds about 2½" sized patties.
Burgers can be placed in the sun for 2-4 hours or dehydrated at 105° for 8-10 hours. Burgers placed in sun will have a softer consistency than those in the dehydrator.
Serve your burgers in lettuce wraps topped with your favorite raw toppings. Enjoy!