Quinoa Patties w/ Spicy Yogurt Sauce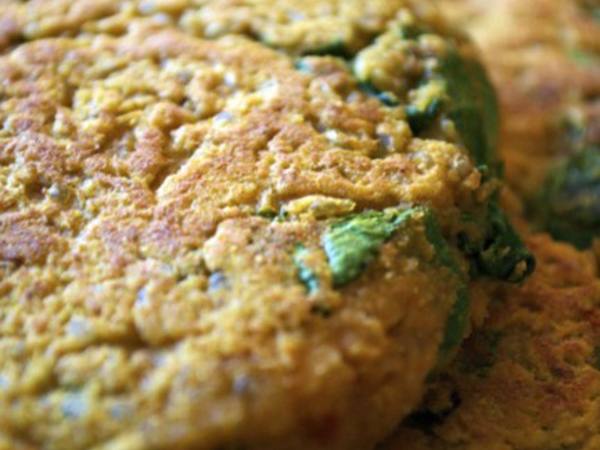 Get all the benefits of whole grains without any gluten! Antioxidant-rich millet and "complete protein" quinoa make a dynamic duo in this tasty, wholesome dish.
Ingredients
Spicy Yogurt Sauce
1 cup plain yogurt

1-2 teaspoons mild cayenne

1-2 teaspoons paprika

1-2 teaspoons hot sauce of choice
Quinoa Patties
½ cup quinoa, rinsed and drained

½ cup millet, rinsed and drained

3 cups water + 4 Tablespoons

2 Tablespoons ground flax seeds

Salt and pepper to taste

1 teaspoon garlic powder
Instructions
In a small bowl, whisk Spicy Yogurt Sauce ingredients well. Cover and let chill in refrigerator until ready to serve.

In a large pot over medium heat, toast quinoa and millet for 2 minutes.

Add 4 cups water to pot and bring to a boil. Lower heat, cover and let simmer 30-40 minutes. Mixture should be on the drier side. Remove from heat and let cool 5 minutes. Fluff with a fork and let cool completely.

Whisk together 4 Tablespoons water with ground flax seeds in a small bowl until a runny consistency is achieved. Set aside.

Combine cooked grains, seasonings, flour and vegetables in a food processor. Process until well combined. Transfer to a large mixing bowl.

Stir in oats and flax mixture. Patty mixture should be sticky. Form into about a dozen 1" thick patties. If mixture is too moist, add a few Tablespoons of flour, or if it is too dry, add a few Tablespoons of olive oil. Prepare all patties before cooking.

Coat a large non-stick skillet with olive oil over medium heat. Cook patties in batches to prevent over-crowding. Fry patties for 5-7 minutes on each side or until golden brown.

Once patties are cool, wrap in lettuce leaves, top with a dollop of Spicy Yogurt Sauce and chopped parsley. You can also keep cooked patties in the refrigerator for a few days. Enjoy!