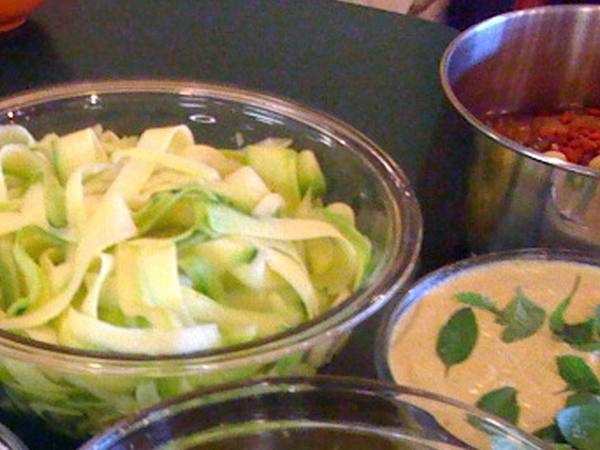 Raw Fettuccine Alfredo
The Vega Antioxidant EFA Oil Blend can be found in the Wellness Department of any Down to Earth store. This versatile oil is naturally rich in Omega-3s and Omega-6s. It also has an impressive array of other good fats, antioxidants, and phyto-nutrients.
Updated: Fri, 04/20/2018 - 9:32pm
Ingredients
3 zucchinis
½ cup raw cashews
½ cup water
½ teaspoon vanilla extract* (optional)
2 teaspoons lemon juice
2 teaspoons miso
2 garlic cloves, chopped
15 basil leaves
½ small onion, chopped
2 Tablespoons Vega Antioxidant EFA Oil Blend
4 Tablespoons nutritional yeast
*Not considered a raw product
Instructions
Wash zucchini and cut off ends.
Use a Spiralo to make zucchini noodles or you can use a vegetable peeler to peel zucchini lengthwise until reaching the core. These stringy slices will serve as your noodles. Transfer to a serving bowl.
Process cashews, water and vanilla extract in a food processor until creamy.
Add remaining ingredients to a food processor and process until smooth - about 1-2 minutes. This sauce can be served immediately or refrigerated for up to a week.
Transfer Alfredo sauce to a serving bowl. Serve Alfredo sauce and zucchini noodles side by side and let your guests serve themselves. Keeping sauce separate helps the zucchini noodles stay crisp. Enjoy!