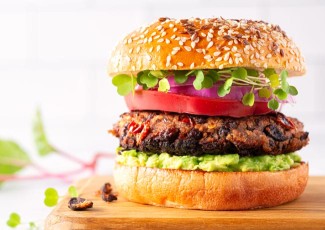 The right amount of spiciness makes this hearty veggie burger to another level of deliciousness. Perfect for game days!
Ingredients
1 (15-ounce) can black beans, rinsed and drained
⅓ cup sautéed chopped red onion
½ cup dry breadcrumbs
2 Tablespoons chunky salsa
1 teaspoon ground cumin
½ teaspoon hot pepper sauce
Salt and pepper to taste
Olive oil
Instructions
Mash beans in a medium bowl. Mix in sautéed onion, breadcrumbs, salsa, cumin and hot pepper sauce. Season with salt and pepper. Sprinkle with water if mixture is too dry.
Using moistened hands, shape bean mixture into burgers. Should yield about 10-12 patties.
Cook on a lightly oiled frying pan on medium-high heat for 5-10 minutes or until browned on both sides. Enjoy!