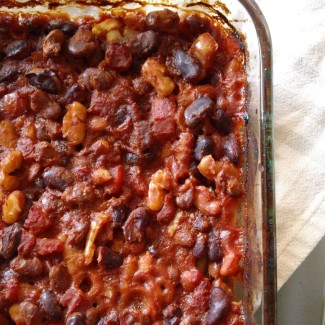 This simple baked bean recipe fuses sweet, salty and smokey flavors for a perfect homestyle meal.
Ingredients
1 (28-ounce) can fire roasted crushed tomatoes
½ cup minced onion
2-4 cloves garlic, minced
2 Tablespoon cider vinegar
2 Tablespoons maple syrup
1 Tablespoon molasses
1 Tablespoon prepared Dijon mustard
1 teaspoon each oregano, cumin, ground ginger, and salt
1 teaspoon liquid smoke
½ teaspoon red chili flakes (more to taste!)
1 (15-ounce) can white beans, rinsed and drained
1 (15-ounce) can pinto beans, rinsed and drained
1 (15-ounce) can kidney beans, rinsed and drained
Instructions
Mix tomatoes, onions, garlic, vinegar, maple syrup, molasses, mustard, spices and smoke (if using) in a large bowl.
Gently stir in beans. Pour mixture into a 9" x 13" pan.
Cover with foil and bake at 350º for half an hour. Remove foil, stir, and bake 45 minutes more. Enjoy in wraps, with grains, or at your next barbeque!