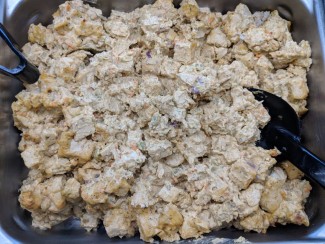 This vegetarian spin on a classic salad has less fat and cholesterol.
Ingredients
1 (12-ounce) block extra firm tofu, drained and patted dry
2 cloves garlic, minced
3 Tablespoons soy sauce
3 Tablespoons olive oil
3 Tablespoons nutritional yeast
2 teaspoons Spike seasoning
1 carrot, grated
1-2 stalks celery, minced
2 Tablespoons minced red onion
½ cup vegan mayonnaise
1 teaspoon mustard
Instructions
Preheat oven to 375°.
Cut tofu into ½" cubes.
In a bowl, toss tofu with garlic, soy sauce, olive oil, yeast and Spike.
Spread in a single layer on a baking sheet. Bake 25-35 minutes or until cubes are firm and slightly puffy. Remove from oven and let cool. Transfer to a large bowl, cover and refrigerate for at least 1-2 hours or until completely cooled.
Once tofu is completely cooled, mix in carrot, celery, onion, mayonnaise and mustard. Serve in sandwiches, wraps or as a dip for chips or veggies. Enjoy!