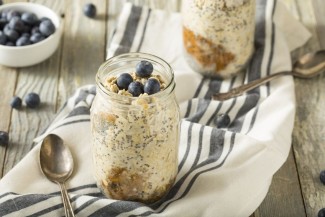 Overnight oats are so easy and convenient. This recipe can help elevate this breakfast staple into a Sunday brunch worthy dish with the addition of a rich Cashew Cream Frosting. Does frosting seems a little indulgent for breakfast? Not when it's made from wholesome ingredients like cashews and fruit – this versatile frosting can be used for a rich creamy topping on anything.
Ingredients
Overnight Oats
2 cups rolled oats
2 cups unsweetened milk or non-dairy milk + more if needed
2 cups diced fruit
2-3 teaspoons liquid sweetener of choice (i.e. agave, honey, etc.)
Cashew Cream Cheese Frosting
½ cup natural cashew butter
1 ½ cup fruit (i.e. diced strawberries, blueberries, diced mango, etc).
½ cup coconut oil
¼ teaspoon salt
2-3 teaspoons liquid sweetener of choice (i.e. agave, coconut nectar, etc.)
1 teaspoon lemon juice
1 teaspoon vanilla extract
Water, if needed
Additional Ingredients
1 cup diced fruit
¼ cup toppings: coconut flakes, chocolate chips, pomegranate seeds, etc.
Instructions
Mix together all Overnight Oats ingredients in a small bowl. Be sure that all ingredients are wet and well incorporated. Cover bowl and refrigerate for 8 hours up to overnight.
To prepare the Cashew Cream Cheese Frosting, combine all ingredients in a food processor and blend until smooth. You will need stop the machine a few times to scrape down the sides. If the mixture is too dry, add a couple Tablespoons of water at a time until the mixture is smooth and creamy. You can also prepare this frosting the night before as well. Scrape frosting into a bowl and refrigerate until ready to use. This frosting can stay in the refrigerator for up to a week.
When ready to serve, use large glass jars or parfait/sundae cups to serve your parfait. To create parfait, divide half of the Overnight Oats between each jar, followed by a few spoonfuls of Frosting and then layered with a couple spoonfuls of additional diced fruit. Repeat layers and garnish with topping of choice. Serve immediately and enjoy!