Rajas (Roasted Poblano Chiles)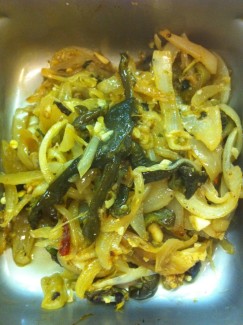 Rajas can be served as a side dish or as a condiment for soups and stews but they also make a delicious addition to enchiladas. When handling chiles, use gloves or rub oil over your hands to avoid burning.
Ingredients
6 poblano chilies (about 1 pound)
Safflower oil + 1 Tablespoon
1 large onion, thinly sliced
3 garlic cloves, minced
1 Tablespoon fresh oregano or 1 teaspoons dried
Instructions
Preheat oven to 425°.
Rub whole poblanos with safflower oil. Place on a baking sheet. Roast 30-45 minutes or until charred on all sides, turning at least once. Transfer to an airtight container, cover and let steam 15 minutes.
Rub off skin and de-seed. Slice lengthwise into ¼" strips.
Heat 1 Tablespoon safflower oil in a large sauté pan over medium heat. Add onions and cook 5-7 minutes, or until golden brown and soft.
Add garlic, oregano and poblano and sauté for about 3-4 minutes.
Season with salt and pepper if desired. Serve as a side dish or condiment or use as an addition to enchiladas. Enjoy!