Kale Salad with Peanut Dressing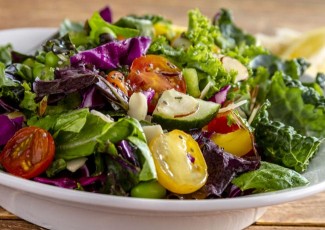 Kale Salad with Peanut Dressing recipe from Down to Earth Organic and Natural.
Ingredients
1 head curly kale, chopped
2 cups shredded purple cabbage
1 cup shredded carrots
¼ cup chopped green onions
Peanut Dressing
¼ cup peanut butter
2 teaspoons sesame oil
1 Tablespoons shallots or red onion
1 Tablespoons garlic powder or 1 clove fresh garlic
Juice of 1 lime
2 Tablespoons rice wine vinegar
2 Tablespoons coconut nectar
3 Tablespoons coconut aminos
Instructions
Put kale and vegetables in a large salad bowl.
Place Peanut Dressing ingredients in the blender or the food processor and blend until smooth and creamy.
Pour dressing over salad and toss. Serve and enjoy!