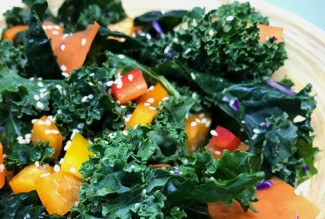 A tangy cleansing salad that will leave you energized.
Ingredients
Dressing
1 Tablespoon flaxseed oil
1 Tablespoon Dijon mustard
1 teaspoon apple cider vinegar
1 Tablespoon lemon juice
1 Tablespoon minced garlic
1 teaspoon red pepper flakes
Salt and pepper to taste
Kale Slaw
1 pound kale, stemmed & chopped finely
1/2 small red cabbage, shredded
5-6 carrots, shredded
1-2 heads bok choi, thinly sliced
1/4 cup diced red onion
2 Tablespoons pumpkin seeds
2 Tablespoons hemp seeds
Instructions
Whisk together all Dressing ingredients in a small bowl. Set aside.
Combine remaining ingredients into a large mixing bowl.
Pour Dressing over Kale Slaw and toss well. Serve immediately or refrigerate for up to a week. Feel free to keep the dressing separate. Enjoy!