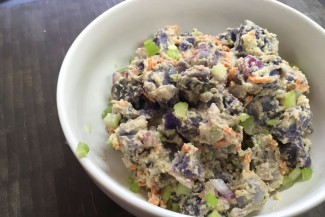 This homespun version of the Down to Earth deli's Pono Purple Potato Salad substitutes traditional vegan mayonnaise with a homemade cashew mayo. Even if you never make this potato salad, we highly recommend still making the unique cashew mayo to enjoy its nutty richness in everything from sandwiches to coleslaws to salad dressings.
Ingredients
Cashew Mayo
1 cup raw cashews
Water, as needed
2 Tablespoons white or yellow miso
1 Tablespoon Dijon mustard
¼ teaspoon black pepper
Potato Salad
2 medium-sized Okinawan sweet potatoes, peeled
Water, as needed
2 stalks celery, minced
5 stalks green onion, sliced for garnish
Sliced radishes, for garnish (optional)
Instructions
To make the Cashew Mayo: Cover raw cashews with enough water to cover by at least 1". Allow cashiers to soak for 1-2 hours up to overnight. Drain and rinse before using. This makes about ¾ cup of Cashew Mayo.
Combine all ingredients into a blender and blend until smooth. Add a little bit of water if it needs to be thinned out. Scrape mayo from blender and store in refrigerator until ready to use. This sauce can be refrigerated for up to 7-10 days.
To make the Potato Salad: Place sweet potatoes in a large pot and add enough water to cover them by at least 2 inches. Bring water to a boil, reduce heat and let simmer until sweet potatoes are soft throughout, about 30 minutes.
Drain potatoes in a colander and let cool completely. Chop into bite-sized pieces.
In a large bowl combine the cooled potatoes and celery. Toss with Cashew Mayo. This salad is best served after being refrigerated for at least a couple of hours. Garnish with sliced green onions and radishes. Serve at your next picnic and enjoy!