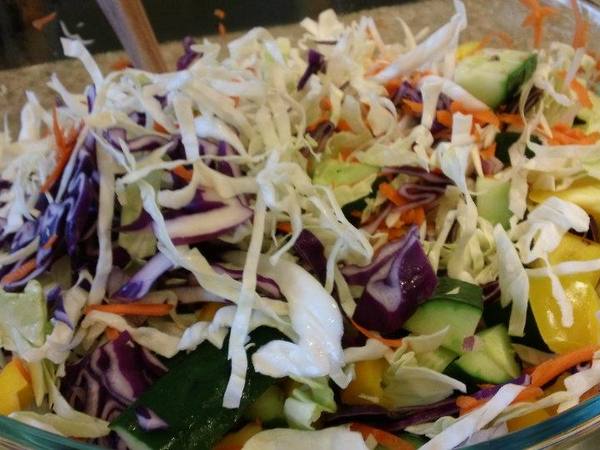 Rainbow Salad
This salad takes advantage of our abundant locally grown vegetables. A totally delicious way to eat a "rainbow' everyday.
Updated: Mon, 06/11/2018 - 8:26am
Ingredients
Salad
2 cups shredded red cabbage
2 cups shredded green cabbage
2 carrots, shredded
1 cucumber, diced
1 yellow pepper, diced
¼ cup minced red onion
A few handfuls of your choice of sprouts
Lemon-Miso Dressing
¼ cup white miso
3 Tablespoons tahini
3 Tablespoons soy sauce
1 Tablespoon agave nectar
1 garlic clove
½" piece fresh ginger
¼ cup fresh lemon juice
3 Tablespoons water + more to taste
Instructions
Add all vegetables to a large bowl.
Blend Dressing ingredients in a food processor until smooth. Add water to thin if needed.
Pour dressing over vegetables and toss to combine. Serve immediately and enjoy!